On Friday 20 Jul 2018, for only the second time, the music of long-overlooked Welsh composer Morfydd Llwyn Owen was performed at the BBC Proms.
The last piece by Morfydd was performed at the Proms in September 1917. The composer died, tragically young, shortly afterwards.
The piece was the Nocturne, lasting about 15 minutes. It was performed by the BBC National Orchestra of Wales, conductor Thomas Søndergård. The concert also included works by Lili Boulanger, Felix Mendelssohn and Robert Schumann.
One wonders why a composer considered by none other than Henry Wood, founder of the Proms, himself to be sufficiently good to be performed was overlooked by so many subsequent Proms programmers. 
I wrote the following piece around the centenary of the performance of Morfydd's first work at the Proms in 2017.
---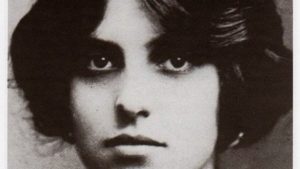 A hundred years ago (September 18, 1917) the work of Morfydd Owen, a Welsh composer almost forgotten until recently, was performed at the Proms, under the baton of the illustrious Henry Wood. She was just 26.
Morfydd Llwyn Owen was in distinguished company. All the other composers performed that night alongside her song, 'For Jeannie's Sake' (lyrics by Ethel Newman), were Russians of considerable reputation, Glazunov, Mussorgsky, Scriabin, Rimsky-Korsakov and Tchaikovsky.
"I know of no other young British composer who showed such promise," said one of her university teachers. Yet it was to be the only time any of her works was performed at the Proms, and within a year of that performance, she was dead, following an unsuccessful operation.
A potentially brilliant, blossoming career was tragically curtailed, and Wales lost a heroine it was hardly aware it had, and who is little-known by regular concert goers even today, let alone by the general public. In her homeland Morfydd has received no more public recognition than a mural in an underpass in Pontypridd.
Although other performers and the musical establishment never lost sight of her, it was another 50 years before her works were given wider performance, and only relatively recently that her works have been brought before a national audience through Radio 3 and the release of a CD.
We are familiar with the prodigious talent of Welsh singers such as Katherine Jenkins, but in a country with such a great tradition of song and performance, Morfydd's creativity as a woman composer is especially rare. It is all the more remarkable that, as a woman, and from a relatively lowly beginnings in the Welsh Valleys, she moved so successfully in an upper-class, male dominated world.
Morfydd is best known for her works for voice and piano, though her output was much broader. In an article for Wales Online, Ben Gwalchmai notes: "Ranging far and wide, she wrote for chamber ensemble, piano, mixed choir and tone poems for orchestra. She made a range of complex, technically brilliant and yet melodically haunting compositions." She was also an accomplished singer, who gave several recitals in London.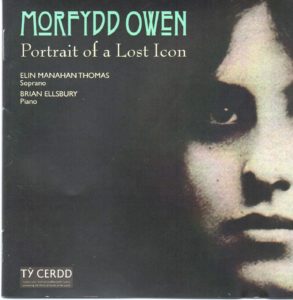 Morfydd was born in Treforest in Wales in October 1891, the daughter of amateur musicians who ran a local business. With her parents she was a keen member of, and performer at, the local chapel. (Not unusual in a deeply spiritual society, steeped in music.) She displayed her musical aptitude early, studied the piano and performed as a soloist in her teens, playing the Grieg Piano Concerto.
She began to study piano composition at the age of 16, attended the now Cardiff University, then moved to London to study at the Royal Academy of Music. She gathered awards for her composition, and developed her talent as a singer.
She produced 180 compositions, pieces for chamber ensemble, piano, mixed choir and tone poems for orchestra in just over 10 years. Her compositions for voice, in English and Welsh, and piano are regarded as her most important and mature contributions. As a singer, she made her professional debut in January 1917 at the Aeolian Hall in London.
With her vitality and gregarious personality, Morfydd formed friendships with many leading lights in the lively and influential London Welsh community, meeting future Prime Minister David Lloyd George and writers DH Lawrence and Ezra Pound. Her creativity was inspired in London, writes Gwalchmai. She  composed "new, brilliant music" there. She was involved with the Welsh folk music scene, and took an interest in Russian music.
Gwalchmai says she had many suitors in London before, early in 1917, she married psychoanalyst Ernest Jones, a leading supporter of Sigmund Freud, and, later, his official biographer. It seems to have been an unfortunate liaison, with the suggestion that Morfydd might of been something of a trophy wife. Jones, 12 years her senior, wrote in his autobiography: "A home needs a mistress and I was in the mood to find one."
Jones, although also from South Wales, was an atheist and apparently unwelcome to Morfydd's family. There are also suggestions that he did not support his wife's musical career. He is said to have wanted her to finish giving public recitals. And she is said to have only written a dozen songs after the wedding.
Gwalchmai, in his Wales Online article, is in no doubt that the marriage was a disaster for her: "Ernest was, in short, a terrible husband. One that was likely abusive."
Henry Wood, who founded and ran the Proms, clearly held the young composer in high regard, and included her work For Jeannie's Sake in that summer's season (1917) – then held in the Queens Hall, which was destroyed in the Blitz in 1941. (In those days the Proms Season continued for several weeks longer than today, which explains the September 18 date.)
Wood's programming for that Prom, placing her alongside so many eminent Russians, is intriguing. Morfydd was clearly a kindred spirit. She had met Russian émigrés in London and before her wedding, inspired by the country's music, had applied for a grant to study and research in Russia. She was successful, but had been unable to travel because of the First World War.
(In an odd coincidence, Lyadov, the least well known of the Russians whose works were performed in that concert, had also only ever been represented once. Until this year. In the Prom of September 3rd (2017) The Mariinsky Orchestra played as their encore his Baba Yaga, "music to frighten the children with… a portrait of a witch."
Less than a year after that single Prom performance, visiting the Swansea area in South Wales with her new husband, Morfydd developed acute appendicitis. Her husband, a qualified medical doctor, is believed to have carried out an emergency operation on her, but she died on the kitchen table, apparently from chloroform poisoning. She is buried in Oystermouth cemetery.
The beautiful young composer has never been forgotten in Welsh musical circles, and by the wider musical establishment, and the recent increase in interest in Welsh women composers will have helped to reestablish her name; but I suspect not too many people, stopped and questioned in the middle of Cardiff, would know who she is.
Gwalchmai calls her "beyond talented, a national treasure cut down by tragedy at too young an age." He believes Wales must do more to celebrate her life.
Her university professor David Evans wrote: "an incalculable loss to Welsh music. Indeed I know of no young British composer who showed such promise."
There is a mural dedicated to her in an underpass in Pontypridd. Statues have been erected to celebrate far smaller talents.
This article is meant only to draw attention to an unusual Proms anniversary. Ben Gwalchmai has done justice to Morfydd in his online piece, as has David Edward Pike in a longer online blog, http://daibach-welldigger.blogspot.co.uk/2014/09/morfydd-owen.html, adds much more detail to her life in Wales and London. Dr Rhian Glesni Davies wrote a PhD thesis on her life.