Few records in cricket can be regarded as unbreakable – although six sixes in an over has to be one – but I find it hard to imagine, in a two innings per side game, any team surpassing the Australians' monumental total on a sunny Saturday in May 75 years ago.
We are used to big scores in cricket these days, although in the one-day game it's usually the sum of the two sides' innings in a single day we look for as value for money. Even then it is rare to see an aggregate of more than, say, 550. And still less 650 runs – the first side would have to have scored over 300 and then been bettered.
What the Australians did at Southchurch Park, Southend, on that balmy Whit Saturday (May 15th, 1948) would be scarcely credible even today. That was an age when even scoring at a run a minute was considered brisk, to accumulate 360 runs in a day. Such a total would have been enough to send most fans home happy.
They scored 721 runs, in a normal (just under) six-hour day – being bowled out just before stumps; it remains the highest score ever in a single day in a First Class match.
Mitigating factors?
Two arguments were advanced after the game. One was that the ground was smaller than usual. Australian captain Don Bradman disagreed. The ground was "of average size and certainly larger than some we played on". The second was that the Essex bowlers were rather indifferent. Bradman noted that Trevor Bailey was one of the most promising fast-medium bowlers in England; Ray Smith was "a very useful fast-medium"; Peter Smith was a Wisden Cricketer in 1946 and Eric Price had topped Lancashire's bowling averages in 1945, when he played there.
This was Australian captain Don Bradman's fourth, and last, tour in England. He already had some handsome scores to his credit on tour. A record crowd of 16,000 turned out on a Bank Holiday weekend, and they must have been delighted when Bradman won the toss and without hesitation decided to bat.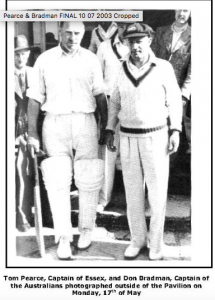 Anyone who has watched county or test cricket will know roughly how the game enfolds, especially on the first-day. In the pre-lunch session, a run a minutes (120) is considered good value. The Australians' openers Sid Barnes and Bill Brown had scored 145 after 95 minutes of play, before Barnes was out, hit wicket for 79. Then Don Bradman (right, with cap), beyond question the greatest batsmen of his day and possibly any day, walked out.
The various accounts I have read suggest he was expected to "play out" the last 20 minutes before lunch, Standard practice in the game even today, scoring off the right deliveries, not taking chances. Instead he raced to 42 runs, out of the 57 added.
Frank Vigar bowled his leg-breaks to The Don in the last over before lunch. The first ball went to wicket-keeper Frank Rist. Bradman hit the next four balls to the mid-wicket boundary, despite changes to the field. Rist is said to have remarked to Bradman: "Haven't you got any other shots?"
"I'll show you those after lunch," said The Don, stroking the next ball for four to the same mid-wicket fence – the fifth in the over. True to his word, in the afternoon session Bradman accumulated runs at a merciless rate, on both sides of the wicket. 
He reached his hundred in 77 minutes – remember, this was not the one-day game (which didn't start until the late 1950s), without the routine big hitting we are used to today. A century in a 120 minute session was considered rapid. Brown and Bradman added 219 in 95 minutes before Brown was caught on 153 in 140 minutes.
Bradman continued at pace, with Ron Hammence as his partner. He was eventually out for 187 in 124 minutes, with 32 fours (of the 87 the Australians hit in the day) and a five, having scored at 90 an hour. Remarkable to today's ears, he didn't hit a single six. And there is no mention of any other sixes in the innings. Which makes the total in the day even more impressive.
Miller fails
While the bowling was being slaughtered, there was a surprising Australian failure. The powerful batsman and all-rounder Keith Miller, with an average of 144 on the tour, was clean bowled first ball by Trevor Bailey.
In some accounts, he gave his wicket away, saying "I got sick of the slaughter." Others contended it was a good delivery. Miller was known to have questioned Bradman's tactics, and felt that more of the younger reserves should have been played, against a weak side. The Courier-Mail (Brisbane) considered Miller's dismissal, despite the record score, "the biggest sensation of the day. With the bowlers at his mercy there was a buzz of excitement. The roar of the crowd [at his dismissal] shook the rickety stand."
Bradman fell at 452, and Hammence a few runs later, but Bradman told his side to press on. The News Chronicle commented: "It was all part of his deliberate, merciless, efficient plan, to build up the biggest possible psychological advantage for the Australians over the English bowlers as a whole" [ahead of the Test series].
Loxton took just 76 minutes for his hundred; Saggers marked his 31st birthday his maiden First Class hundred in 94 minutes. Their sixth wicket partnership of 166 took a scarcely credible 66 minutes. 
Jack Fingleton commented: "The afternoon sun was not long on its downward path before boundaries were being received in complete silence." Arthur Mailey wrote that spectators were "so surfeited with the slaughter" they began to leave an hour before the close. 
The Guardian noted: "Interest started veering to the microphone announcements of children searching for their aunts and wives wondering about their husbands." (Perhaps they were in the bar.)
Australian "collapse"
The innings closed rapidly, the Australians sinking from 664-6 to 721, with less than 10 minutes remaining, so Essex did not have to bat. There were only 9 extras. The Australians scored at 5.59 per over — astonishing even by today's standards over a full day. Essex bowled at a brisk rate of 21.3 overs an hour – but sides did so in those days, and the huge Australian score was way beyond the norm.
On Bank holiday Monday, May 17, (Sunday was a rest day) Essex were all out for 83 (Bailey, injured hand that didn't prevent him bowling, did not bat). Following on, Essex slumped to 46 for 6. Captain Pearce and Smith (P) added 131 for the seventh wicket, at least giving another huge crowd a full day's cricket, and the innings ended on 187. The Australians won by an innings and 451 runs in two days. 
Bradman later wrote: "Here, it seemed to me, was the first really tangible sign that we possessed a team of exceptional batting strength, one which would scourge any but the best bowling." 
Charles Williams added in Bradman's biography: "Opponents were there to be defeated; and were, whenever possible, to be annihilated. The purpose was to establish a psychological ascendency over any and every opposition to carry through to the Test matches."
The Australians remained undefeated on the 1948 tour, winning four test matches with one draw, and earned the title of The Invincibles. 
Footnote.
There is a short film of the famous match (which I cannot now find on YouTube). Players are shown warming up in the ground with knots of spectators, wearing ties and jackets despite the warm weather, then shots of the umpires walking out followed by the fielding side and the Australian openers, Brown and Barnes. There are shots of play, of bowlers in slow motion, and the fall of some wickets. There is a remarkable sequence of Keith Miller walking back, dismissed from nought, nonchalant, straight back, commanding. Here was a man could have scored a century too, but chose not to.
More on that famous summer of cricket – When Bradman's "Invincibles" came to Worcester – cricket as national balm in 1948