"A field cannot be set to such genius, with the ability, in the twinkling of an eye, to find the exact stroke to any chosen part he may select. Bradman in true faith can play any stroke at will."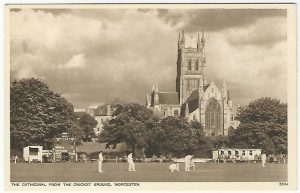 At the opening of the 1948 cricket season, as the nation still endured a brutal postwar austerity, the appetite for the diversion of cricket was immense. People had begun to enjoy themselves the previous year during the famous, golden summer of 1947, when Compton and Edrich scored at will and drew huge crowds. Now there was the prospect of the touring Australian team, led by Donald Bradman, widely accepted as the greatest batsman of his or any time.
Newsprint was short, but every newspaper had room for a cricket report. 
This is a flavour of the Times coverage of the opening game of the season, Worcestershire against the Australians, in daily accounts by their anonymous "Cricket Correspondent".
April 28.
"The Australians play their first match today at Worcester, than which there is no more pleasant ground all England over for so imposing and pleasant an occasion.
"Worcester throughout the years has earned the questionable reputation of providing ample opportunity for batsmen to score runs while bowlers toil, and the recent spell of fine weather offers no hope of mercy to those whose labour it will be to keep the scoring of runs within the bounds of decency.
"It is possible that D. Bradman, who on each of his three previous visits to Worcester has played an innings of more than 200 runs, will take yet another opportunity to get on kindly terms with himself." In the event he scored 107.
(On his previous three visits to New Road, Worcester, "The Don" scored 236 in 1930; 206 in 1934 and 258 in 1938.)
April 29.
"The pattering of feet in the streets of Worcester yesterday early in the morning announced that the great moment had arrived for the first match of the cricket season, and that the Australians were there."
Yet "Cricket Correspondent" detected this wasn't quite the peerless outfit, working to maximum efficiency, that it soon became as the season progressed. Worcester batted first and reached 137/1. However, the dismissal of Charles Palmer, top scorer with 85, lead to a collapse and they lost their last nine wickets to be all out for 233.
The Times saw a chink in the Australians' armour.
"Granted this was the Australians' first match; admitted that they had to spend a deal of the day rubbing their hands to encourage circulation; still one left the ground with the impression that this cannot be regarded as the best of Australian teams we have welcomed." (How wrong he was to be.)
"First Lindwall, with an action almost as pleasant to watch as that of McDonald, was never quite sure in his aim. Nor was Miller quite the wicket-shatterer we remember when he was last here. A quite unnecessary number of balls were frivolled in lack of direction." ("Frivolled" – what a delightfully antique word.)
April 30th
"Quite properly as many people as could be squeezed into the ground were at Worcester yesterday to see Don Bradman back once more. He made his century and at close of play the Australians had scored 377 for six wickets.
"A cricket match is played between two teams of 11 a side, but it can truly be said of Bradman in his generation, as it was said before of WG, of Hobbs, of Jessop, that the turnstiles click in cheerful anticipation. Nor did he disappoint his world of admirers. We had read, by suggestion, that something had been lost, or slightly diminished, of his past glory. That is not true, for yesterday we were privileged once again to see the batsmen who is the complete proof that a bowler can only bowl so well as the striker allows him to. 
"A field cannot be set to such genius, with the ability, in the twinkling of an eye, to find the exact stroke to any chosen part he may select. Bradman in true faith can play any stroke at will. Yesterday he gave us a greater measure of the offside stroke, so certainly played that the ball was at the boundary before a fieldsman's hand had been lifted. He made 107."
May 1.
And still the doubts of  "Cricket Correspondent" persisted.
"There is the belief founded on careful observations, that even if one agrees the Australians have many bowlers who can take a wicket, they also have many bowlers who can be scored off with no great trouble to the talented batsmen we have in this country. 
"The day was introduced cheerfully, with some glorious straight driving by Miller, who at one time seemed intent on holing the ball in a tall chimney miles away over the sightscreen. Miller, like Hammond, is clearly a great believer in the forthright, full-blooded drive which only a brick wall can stop."
Miller had hit an unbeaten 50. In their second innings Worcestershire were bowled out by Australia for 212 runs. The Australians (462/8 declared) won by an innings and 17 runs.
Footnote.
The Australian cricket team in England in 1948 went on to become the only Test match side to play an entire tour of England without losing a match. This feat earned them the nickname of "The Invincibles", and they are regarded as one of the greatest of all cricket teams. 
Including five Test matches, Australia played 34 games, of which 31 were first-class, between 28 April and 18 September. In all matches, they won 25 and drew 9; many of the victories were by large margins. They won the Test series 4–0, with one draw. 
The Australians were greeted with enthusiasm across the country, and many records for match attendances were broken. The record for Test attendance at a match in England was broken three times, in the Second, Third and Fourth Tests, and stands to this day.
My article on cricket at Worcester.