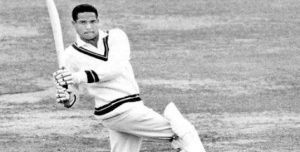 How Garfield Sobers beat cricket's ultimate record. Extract 3.
This is the third in a series of extracts I am publishing in August in the lead up to the 50th anniversary of the day, Saturday, August 30, when Garfield Sobers became the first player in the history of cricket to hit every ball of an over for six. It's taken from my e-book Sobers six hit perfection at Swansea: That was the Day
The full book of that afternoon, the setting and the events around it is available on Amazon.
It is important to put those distant 1968 sixes in perspective. Some younger readers might wonder what all the fuss is about. There are certainly many more big hits today than there used to be, and a one-day game without a smattering of sixes would be an oddity indeed. Bats are heavier, although the evidence that people are hitting the ball higher and harder because of their bats alone is inconclusive, as I write above.
The one day game has brought bigger, more urgent hitting, but one-day cricket was already being played in 1968. (One day limited-over cricket game was first played between English county teams in 1962. The first full-scale one-day competition between first class teams, the knock-out Gillette Cup, began in 1963). Yet the first one-day six sixes over did not happen until 16 March 2007, in a match between South Africa and the Netherlands at the Cricket World Cup. Herschelle Gibbs was the batsman, Dutch leg-spinner Daan van Bunge the bowler. They played at Basseterre in St Kitts, the smallest international ground in the Caribbean. "There were some good balls, and some s*** balls," said Dutch captain, Luuk van Troost, afterwards.
The big change has come with the introduction of Twenty20 (T20) cricket (20 overs a side), where walloping the ball as hard and a far as possible is one of this game's principal aims.
On 19 September 2007, in a match between England and India, Indian cricketer Yuvraj Singh hit six sixes off a six-ball over in a game during the inaugural ICC Twenty20 World Cup in Durban, South Africa. The bowler was Stuart Broad of England.
(By the end of 2017 there had been a total of 10 examples of six sixes in an over, including the above. Two were in English Twenty20 games; one in an Indian  Twenty20; one in an Australian 50 over game; another in an English county Second XI match; one in a warm up game and another in an Indian schools game. Ravi Shastri was the second players to hit six sixes in an over, in 1984, in a match between Mumbai and Baroda. https://www.quora.com/How-many-cricketers-have-hit-six-sixes-in-an-over).
Barney Ronay, writing in The Guardian (8th May, 2010), explains how today's cricketers pursue the new explosive brutality.
"It used to be that the point of cricket was to get batsmen out. This has changed. The point of cricket, if we take the cricket most people see, is to hit a six. The six is the endlessly jiggered G spot of the crowds, and the enduring victory emblem. This is all still very new. Pre-Twenty20 the six was quite a small part of cricket. In England hitting a six was even rather despised, a symptom of a kind of flaky foreign‑accented excitability."
When Ronay first watched test cricket in the 1985 Ashes series, the image that sticks in his mind is of Ian Botham hitting his first delivery at Edgbaston back over Craig McDermott's head for six. "This seemed almost scandalous at the time, and looking back you can see why. People just didn't hit sixes very often. England hit six of them in six Tests that summer. Compare this with the 178 sixes in the first week of the recent World Twenty20."
The England T20 team in 2010 had a plan, he noted. "The plan is to hit sixes, and lots of them. 'We go out in the middle, someone throws the balls and we hit them into the stand,' said Paul Collingwood, explaining the new finesse-free thinking.
He recalls the behaviour of England batsmen Luke Wright playing against Ireland. "He could be seen making an unexpected American-style whooping noise mid-pitch after crunching a straight hit into the sightscreen…No England cricketer has ever made this kind of noise before, but then before Wright no England player had tried to hit every single ball for six using the same full-bodied over-the-shoulder smear, a shot reminiscent of a man gleefully hurling his defective vacuum cleaner on to a municipal recycling skip."
How much pleasure is there, ultimately, in witnessing a six? Ronay wonders. "Certainly it is a diminishing pleasure, as in any debauch." (Consider this, at the time of writing, Ross Taylor of New Zealand held the record for the T20 with 164 sixes.) "This could be the self-defeating irony of a format based on an assumption of unceasingly progressive excitement," writes Ronay.
"There is talk the IPL may be considering introducing an eight, presumably as a reward for the really big six, or the six launched towards a particularly elite hospitality stall. We can only hope this is just a rumour. On the other hand, you could still see it happening now that the current batting absolute is in the process of being wrung out."
There is only one sixes barrier yet to be broken, struck off every ball in a test match over. I like to think that will never happen, although Kapil Dev came close at Lords in 1990 when he hit the first four balls from Eddie Hemmings for six to save the follow-on. Adam Gilchrist of Australia holds the record of hitting 100 sixes in Test Cricket.
But the fact that there have been so few subsequent six sixes adds lustre to Sobers' achievement.
Perhaps purists will now retreat from cricket's blunderbuss dimension, to an appreciation of the artistry of the men who preferred the hit for four, and had very few sixes against their names. Men such as Bradman and Jack Hobbs. As I noted earlier, Bradman only hit six sixes in his entire test match career, compared to 618 fours.
So as sixes proliferate, perhaps that ought to be considered the finer achievement, the mark of a higher technical ability, hitting every ball for four, against the very best bowling?