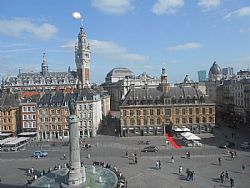 Lille and Lens
The Euro 2016 football venue is the small industrial town of Lens, centre of the swirling carnage of the First World War, which was happening here exactly 100 years ago. Today the pre-eminent attraction is the new Louvre-Lens gallery, opened in 2012 as an offshoot of the great Paris museum to display some of its art treasures in one of the least likely locations in France.
But many visitors will probably base themselves cells in nearby Lille, just under an hour away by train, or about 35 minutes by road.
This is an update of an article I wrote earlier.
We used to ignore Lille, skirting the old industrial city in our rush down to Paris and points south. Than came Eurostar. The fast trains from London have turned this handsome Flanders city into one of France's most convenient short-stay destinations, now just 80 minutes from St Pancras.  I found Lille-appeal everywhere, from cosy cobbled squares and narrow streets to welcoming bistros serving mussels, chips, and beer.
High sight
Your very first glimpse of Lille, far across the flat plain of Flanders, is a single, apparently ancient skyscraper. The 310 ft belfry, the tallest in the region, Is one of 55 in Belgium and N. France. They are designated together as a composite World Heritage Site by Unesco. Proclaiming a  city's power and wealth, belfries were a dramatic form of building, unique to these wide horizons. The surprise is that Lille's belfry is so young. It was completed in 1932 as the then highest building in France in reinforced concrete. You can climb it on Wednesday, Friday and Saturday (book at Tourist Office, www.lilletourism.com). From the top there are immense views, down over the five-pointed Citadel– Louis XIV's masterpiece of fortification — the medieval Stock Exchange, and out across World War 1 battlefields.
Sweet heaven
General de Gaulle was born in Lille, and while a visit to his birthplace (9 Rue Princesse) may not be a priority many visitors, the irascible president's favourite pastry shop and tea room La Pâtisserie Meert (Salon de thé, pâtisserie, chocolaterie & confiserie) is a must. Just as dogs sometimes look like their owners, this shop's interior seems to resemble the exquisitely extravagant sweets and confectionary on sale within, in its  sumptuous décor of medallions supported by mermaids, masks, garlands and arabesques from the 1800s. Its specialty is homemade waffles ("gaufres"). Made to a still-secret recipe devised in 1849, they are filled with Madagascar vanilla cream and cooked between two iron waffle-makers. Now Méert promises to release cholocoholics from their guilt. The chef has created a sugar-free chocolate, combining the decadence of the cacao bean with the natural sweetener Maltitol. 27 rue Esquermoise ,www.meert.fr
Wonder wall
Never trust a cover. France's most-recently completed cathedral looks quite ordinary from the outside, with its rather vague off-white front. Go inside Notre Dame de Treille, however, and that bland façade becomes a wall of warm orangey-pink, as 110 slabs of white marble just over an inch thick soak up whatever light there is outside. Completing this unfinished cathedral was the city's Millenium project. When work started in 1854, they wanted it to be one of the world's biggest. (William Burges, who built Cardiff Castle and nearby Castell Coch, actually won the prize to design it, but was passed over.) They peeled away the corrugated iron facing the building, and Peter Rice (who worked on Sydney Opera House) effected his ingenious "light wall" solution, topped off with a new rose window. Architectural simplicity to lighten the darkest of days.
Ancient and modern
Lille became serious about tourism in the 1990s, when the Eurostar link opened. Now it has accommodation to secure its place among the top short break stops. Why build new, said the developers of the l'Hermitage Gantois, when there is a fine old structure steeped in history looking for a purpose? They converted the 13th Century hospice with respect. It stands out from so many "all much the same" hotels. We found carved angels, stained glass windows, secret gardens behind great wooden doors and the still-consecrated chapel. Our room was down a corridor under curved wooden beams.  Each one is different, focussing on whatever original features they contain. Scrubbed and polished ancient bricks and tiles match cool modern furnishing. In the early evening we sank with a drink in squashy leather sofas in the lounge, a former courtyard under an all-glass roof. www.hotelhermitagegantois.com
Fish feast
We sat under mosaics celebrating the bounty of the seas in the  L'Huitrière and enjoyed a memorable fish dinner. The restaurant demonstrates that simple but winning French formula of a family-run restaurant, here since 1928, delivering a smallish menu of signature dishes such as warm oysters with pears and truffles, and grilled lobster in Roscoff butter. It's smart and formal, but the amiable owner Antoine Poyne ensures the place is never fussy and aloof. This warm, cheerful host checks personally with diners, to see that L'Huitrière's reputation as one of Lille's best restaurants, begun by his great-grandfather, hasn't slipped today. Next morning Antoine is in the fishmonger's you pass through to reach the tables, ordering fish from the North Sea and Channel. The only farmed produce he serves is salmon. Turbot is the speciality. Prices may be in the "special celebration" league, but they are not excessive. www.huitriere.fr.  The sister restaurant, www.ecume-des-mers.com (Foam of the Seas) is less formal, and cheaper.
Fine arts
The Palais de Beaux Arts, In the heart of Liile, is widely accepted as France's second best general interest museum after the Louvre. This wonderful building is worth a visit even if you only stroll its great corridors and staircases, pausing here and there for a highlight such as Monet's ghostly Houses of Parliament, or Delacroix's compelling Medea, the murderous mother of Greek tragedy. The other bright star in town, and well worth the trip on the driverless metro is La Piscine. This 1920s art deco swimming pool was converted into a gallery, with sculptures and paintings placed among former shower stalls and changing booths. A strip of water through the central hall reflects sunlight through the stained glass windows. Then see the Hospice Comtesse (a hospital founded in 1237, and now a museum). The City Pass gives free access to these, many other attractions (28 museums, tourist sites) and all public transport -(metro, bus, tram). 24 hours (25 €); 48 hours (35 €).
http://en.lilletourism.com
Louvre-Lens
The Louvre-Lens art museum displays objects from the collections of the Musée du Louvre that are lent to the gallery for various lengths of time.
It is the most conspicuous example of the current French policy to decentralise cultural institutions. The works on display include such highlights as Saint Matthew by Rembrandt and the portrait of Baldassare Castiglione by Raphael. It is light and airy and restful, from the very opposite of the stuffy, daunting experience that museum-going used to be. Free admission for everyone until the end of 2016. The museum is about a 15 minute walk from the railway station.
The writer travelled by Eurostar. www.raileurope.co.uk