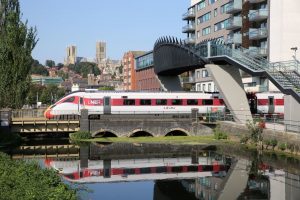 The summer of 2021 presents a rare opportunity to persuade people to leave their cars at home and take day trips by train.
As we wait for the government to explain exactly what it means by our transformed railway system 'Great British Railways', some train companies have decided not to wait to see how that plays out in boosting passenger numbers.
A fixed price, themed package for a family, with a few extras thrown in, seems like a good start in encouraging families to explore the UK by rail. London North Eastern Railway (LNER) is launching a series of 'LNER Experience events'. Its first offer is a combined family ticket (£79 for up to two adults and four children), setting out on a morning train from London to Lincoln.
Off-peak days out in London from the provinces have never been so hard to sell. There is so much to experience in the capital, so many places to eat out. Doing it in reverse is harder, and many of the train companies, taken back into state control during with the pandemic, and set to stay there, never really tried to tempt people aboard.
Lincoln is a good place to begin. LNER inaugurated in a direct, fast, service from London in 2020 using the new Azuma trains. That makes it an attractive destination.  The sort of place to which not many families in London would contemplate driving, just for a day trip on a hot July morning, but easily reached by train.
A resourceful family could find its own way there by railway, with a bit of planning. But in a culture where the car dominates, only a minority of people would even think about a day trip by train, unless it was to the seaside, or to London. Market the possibility of a day trip to somewhere previously unthought of, and put it together in an enticing package, and trains could be doing something unheard of since their market began to drift away in the 1950s, and earlier: hitting back against the car.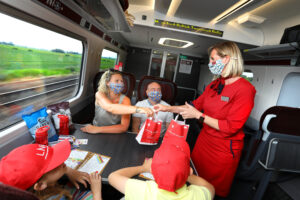 The LNER Lincoln Experience day trip is a partnership with Visit Lincoln, the city's tourist board. It begins when the daytrippers board the 08:06 LNER service from London King's Cross to Lincoln. They're presented with Lincolnshire-themed goodie bags, containing treats from some of the area's food and drink producers, guides showcasing the city and vouchers for top attractions.
An LNER 'Hero Chef' creates Lincolnshire themed snacks, served up during the journey. On arrival in Lincoln, in just under two hours, families are greeted by a team from Visit Lincoln, who give advice on how to make of the most of their day, suggesting visits to the Cathedral, the Castle, the Castle Walls, one of only four original copies of Magna Carta, and the new Lincoln 'Imp Trail'. And then it's any train back.
David Horne, LNER Managing Director, said: "Our Family Tickets and events are the latest initiative to encourage more people to return to rail and explore destinations, with fast journey times, free Wi-Fi and beautiful views from the window. Lincoln has so much to offer – it's a real hidden gem for a day trip. We're delighted to make it our first LNER Experience Event."
The Lincoln Experience is clearly a marketing exercise on which the railway company would like to build. (The MD calls it 'the first', but offers no more information.) Also this summer LNER is offering inclusive family tickets, without the destination package, to and from London King's Cross and Darlington, Durham, Doncaster, Edinburgh, Harrogate, Leeds, Lincoln, Peterborough, Wakefield and York. They all give savings of 48 percent of the equivalent Standard Advance tickets, without a Railcard, across the route.
Some may prefer this option of the basic ticket, without the goody bags, and the meet and greet the other end. But by whatever means they managed to sell seats on their trains – or as we now know them, our trains – LNER is making a start. 
Visit Lincoln website: https://www.visitlincoln.com/
The Lincoln Imp Trail: https://lincolnimptrail.co.uk/