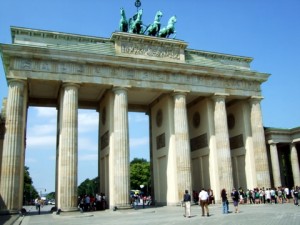 Photo – Brandenburg Gate, by GHD
Berlin has boomed since the two halves, East and West, were joined after the fall of the Wall in 1989.  Sharp new shops, bars, restaurants, cafes and clubs have sprung up over drab wastelands. The bold creations in Europe's most vibrant architectural capital stand alongside restored old landmarks. I took the train to Germany's capital and drew up this must-see list, including the Egyptian "Mona Lisa", one of Europe's biggest sandcastle festivals, world-class concerts and the hotel a shoe company built.
1
Hall change
This is the best way to Berlin. Take the afternoon Eurostar to Paris, then the overnight sleeper, www.raileurope.co.uk. You alight at the sparkling new Hauptbahnhof (central station, opened in 2006). Europe's largest through station is an architectural thrill, under a 1200 feet long arch of soaring steel and glass. Natural light floods the platforms, on five different levels. Trains leave for as far away as Kazakhstan. From the station, on former no-man's land between East and West Berlin, it's a 10 minute walk to the rebuilt Reichstag (Parliament building), topped by Norman Foster's scintillating glass dome. Nearby is the heart of the elegant restored Prussian heritage. I walked from the monumental Brandenburg Gate, on down Unter den Linden to the swanky shops of Friedrichstrasse. www.visitberlin.de
2
Easy rider
There's a lot to see in this big and spread out city, full of optimism and energy. I recommend the Berlin WelcomeCard Ticket (48-hour €16.90, with free travel on all public transport) as the best way to take in its many scattered attractions. There's a 25% reduction on many. I took the exciting trip to the view at the top of the Panoramapunkt (Potsdamer Platz) in Europe's fastest elevator. Places like the vast, green Tiergarten park are absolutely free. This year (2010) there is an exhibition of the beautiful, tortured works of Mexican artist Frida Kahlo (until August 9, at the Martin-Gropius-Bau). The International Sand sculpture Festival is at the O2 World, June 6th – August 29th. www.sandsation.com
3
Beauty queen
One of the worlds great beauties has a splendid new home. The bust of Nefertiti was given a room of her own, with lighting fit for the superstar she is, in the city's New Museum in 2009. The beautiful classical building dates from 1830. It was refashioned by British designer David Copperfield, after wartime damage and years of East German neglect. The Egyptian queen is one of many fine things in the five separate collections on Museum Island (together they form a UNESCO World Cultural Heritage site).The Pergamon Museum houses the astounding Great Altar, excavated at Pergamon in Turkey and reconstructed here. Another showpiece in this museum is a recreation of the Ishtar Gate of Babylon.
4
Baton charge
One of the white hot tickets is any concert in the illustrious Philharmonie concert hall by the great Berlin Philharmonic, with British conductor Sir Simon Rattle in charge. Watch www.berliner-philharmoniker.de like a hawk, because they always sell out. There's more room in the Waldbühne, the Forest Theatre, venue for the orchestra's big midsummer concert, "A night of Love" (June 27), with works by Elgar, Tchaikovsky and others. The city's top musical performers give free lunchtime concerts in the Philharmonie foyer every Tuesday (until 22 June). The Staatsoper on Unter den Linden is one of the world's great opera houses. But the biggest free attraction this year is Staatsoper's open air performance of Tchaikovsky's opera Eugene Onegin, with regular conductor Daniel Barenboim, in Bebelplatz (5 June). www.staatsoper-berlin.de.
5
Shoe Shine
Since the Wall came down, Berlin has been an exhilarating blank canvas for architects and designers. So much space to build on; so many grey old buildings to adapt to bright new use. There are new shops all over (the smartest areas are Kurfürstendamm and Friedrichstrasse), clubs, bars, restaurants and a clutch of new hotels. My pick of the new boutique hotels is Casa Camper, run by — of all people — the smart Spanish shoe company Camper.  As well as free wifi, they offer bicycles, personalized city maps, and — this really is smart – free 24 hour Tentempié.  The word means "snack", but there's much more to it. They replace the minibar, with all those overpriced drinks and nuts, with a free 24 hour buffet.
www.casacamper.com/berlin
6
Dark days.
I've never seen such a chillingly simple reminder of the power of evil. In Opernplatz I looked down through a plain glass panel in the flagstones, onto empty shelves in what looks like a small underground library. There's space for each of the 33,000 books — by Hemingway, Freud, Einstein, Kafka and many more – torched on the orders of Goebbels one May evening in 1933. Nearby is architect Peter Eisenman's stark and sombre Holocaust Memorial. I walked through a claustrophobic grid of 2711 grey slabs tombstones, one for each page of the Talmud. The latest stage of the city exposure of its dark past is Topography of Terror. This plain, recently opened [ May 7, 2010] exhibition hall recounts the crimes devised in Gestapo headquarters, which stood on this site.