I wrote this two summers ago – and I take no crdit for being prophetic.
'Rugby and male voice choirs may still rule the valleys, but maybe they will toast success with a crisp local rosé or an elegant Pinor Noir in the future.'
And this week (July 6, 2021) a "deliciously fresh" red wine, a Pinot Noir, from Monmouthshire won a gold medal in the Decanter World Wine Awards (DWWA).
Lower down is an updated version of the piece I wrote for the Mail on Sunday in 2019.
---
White Castle Vineyard's Pinot Noir Reserve 2018 costs £25.50 a bottle. The competition is judged blind. Gold medals are hard won, with winning wines set against competition from all over the world. In all 635 gold medals were awarded, with judges tasting more than 18,000 wines from 56 countries.
Robb Merchant, a former Royal Mail worker, runs White Castle with his wife, Nicola, a retired nurse. The couple bought a field next to their smallholding in 2008 and planted 4,000 vines the next year. Now with 7,000 vines, they produce 10,000 bottles a year.
The pinot noir is described as "deliciously fresh" by the DWWA co-chair Sarah Jane Evans. "It has got a lovely cherry red fruit character. It's a really elegant, fresh wine. It's delicious.
"We're used to the UK making white wines but what is interesting is they have made a red wine, which people have always said with the UK climate was impossible," said Evans.
There are 31 vineyards in Wales, growing a few dozen different grape varieties, with many wine trails aimed at tourists.
0 – 0 – 0
It still rains a lot in Wales, but visionary vine-growers are taking advantage of a changing climate to set up a 21st Century tourist attraction on verdant south-facing slopes throughout the land. New vineyards are producing prize-winning wines that have been showcased at Fortnum & Mason and ordered up by French négociants in Bordeaux.
And now Wales can claim the first vineyard hotel in Britain – it opened in 2019. 
Rugby and male voice choirs may still rule the valleys, but maybe they will toast success with a crisp local rosé or an elegant Pinor Noir in the future.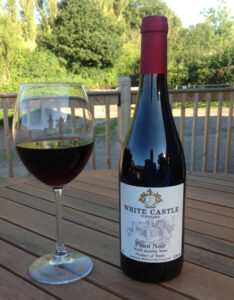 This is my pick of some of the best Welsh vineyards (2019 prices).
Cwm Deri Vineyard.
Where is it?
Martletwy, Pembrokeshire
Tucked away deep in the heart of evergreen Pembrokeshire, Cwm Deri is well worth the search down quiet country lanes.
What they offer.
Stroll around the vineyard at any time of year, in its sheltered microclimate behind windbreaks. Taste the wines, £7.50 for a full tray, while you sample a local Welsh cheeseboard. Then see for yourself the "interesting bits" of wine production – the activity in the bottling room where wines are filtered, bottled, capped and labelled. 
One of the best vineyard restaurants in Wales is open daily for lunch, and for dinner at weekends. They bake their own bread too.
Cheers.
Seven varieties of grape, include Phoenix and Orion (white) and Leon Millot and Triomph (red). Top of the range bottle is the Estate Reserve Sparkling Rosé (£28). Vine Leaf is a dry white wine made from, would you have thought, vine leaves (£7.95).
www.cwm-deri.co.uk
Bed down at: their own shepherd huts Bramble or Cherry.
Sugar Loaf Vineyards
Where is it?
Abergavenny, Monmouthshire
The vineyard takes its name from the 1,300 ft mountain that towers above it. It sits in an ANOB (area of outstanding natural beauty) in the Brecon Beacons National Park, with sumptuous views down into the Usk Valley. 
What they offer. 
Year-round self-guided tours, and wine tastings (from £3).
Cheers.
They grow seven varieties of grapes, including Reichensteiner and Regent, and produce three whites, a rosé, a red and two sparkling wines. The sparkling white Hiraeth (it means longing for the homeland), from the Seyval Blanc grape, is one of Wales's best fizzes, made by true champagne methods. It costs £20.95.
https://sugarloafvineyard.co.uk
Bed down at: The Angel Hotel, Abergavenny. www.angelabergavenny.com 
Llanerch Vineyard, Hensol
Where is it?
Hensol, Vale of Glamorgan.
Owner Ryan Davies has opened (2019) the UK's first vineyard hotel at Llanerch, Wales's largest vineyard. This former dairy farm, in the Ely Valley, is close to junction 34 on the M4, 12 miles from Cardiff. Davies aims to replicate the successful wine tourism of New Zealand and Australia, where vineyards are destinations offering the full vineyards experience (tours and tasting), with fine dining and superior accommodation.
What they offer.
Guided tours (£12 per person) and tastings (£7). There's also a cookery school, a bistro and restaurant.
Cheers.
They produce five wines in the Cariad brand ('sweetheart' in Welsh) from a mix of German and French hybrid vines. Cariad Sparkling Blush is £35 a bottle. The dry white is £22.
Bed down at: the new on-site Llanerch Hotel.
White Castle Vineyard
Where is it?
Llanvetherine, Monmouthshire.
White Castle Vineyard, in a rolling, rural spot near the market town of Monmouth, dates from 2009. Two of the leading lights of Welsh wine, Robb and Nicola Merchant, planted vines on a smallholding and realised their dream. 
What they offer. 
Visitors receive the best possible insight into the vineyard and its working; every tour (£15) is led by either Robb or Nicola. The couple also stage events in a 16th century croft barn at the vineyard, which they helped restore.
Cheers.
From a wide range of vines includes Phoenix, Siegerrebe, Pinot Noir and Cabernet Franc, flow seven wines, including a fortified wine 1581 (£25.50) and the white Gwin Gwyn (£16). 
www.whitecastlevineyard.com
Bed down at Hunters Moon Inn, Llangattock Lingoed
Gwinllan Conwy Vineyard.
Where is it?
Conwy, North Wales
This new vineyard sits on the south side of Pydew Mountain, near formidable 13th century Conwy Castle, against the magnificent backdrop of Snowdonia. The first vines were planted in 2012. The resulting wines, produced from 2015, were soon winning prizes.   
What they offer.
Stroll through the vines (free), or join a tour and wine tasting (£15).  For an extra £7.50 enjoy a board of goat's cheeses, made just over the hill.
Cheers.
From hybrid grape varieties suited to the soil and weather of North Wales, the owners produce five wine varieties, including Rondo, a medium bodied red (£17). Celebrate with a bottle of Pefriog (Welsh for sparkling) made from Solaris grapes, by the traditional Champagne method.
Bed down at:  Caer Rhun Hall (eight miles away) www.whisperhotelscollection.com
Parva Farm Vineyard
Where is it?
Set on a south facing slope in the Wye Valley in South Wales, the vineyard faces illustrious Tintern Abbey,  whose monks tended their own vines around here centuries ago, another age when a warmer Welsh climate favoured wine-making. The Roman were here, and it's possible they too made wine on Wye Valley slopes.
What they offer.
The vineyard is open year-round for a self-guided tour (£2), followed by free wine tasting.
Cheers.
Parva's main varieties include white grape Bacchus and the red Pinot Noir. Bacchus dry white costs (around) £16. The Tintern Parva Ty Coch, a prize-winning light, dry red, is £13.
www.parvafarm.com.
Bed down at: the nearby Royal George Tintern. www.theroyalgeorgetintern.co.uk
Many Welsh vineyards offer tours and tastings as part of Wine Trail Wales.  www.winetrailwales.co.uk