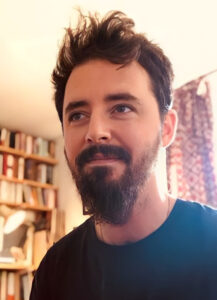 Aidan Cottrell-Boyce, whose first novel, The End of Nightwork, was published earlier this year, is one of the speakers at the BeaconLit book festival, 2023. He is one of two authors at BeaconLit this year who were on the Observer's annual list of the ten best debut authors for 2023
****
'Yes, I've always written, I guess,' said Aidan Cottrell-Boyce. 'There was just so much writing at home. I thought this is what it was like to be grown-up.'
A lot of that writing came to the pen of his father, Frank, the children's novelist and screenwriter who worked, with Danny Boyle, on the opening ceremony of the London Olympics in 2012.
Did your father encourage you?' I asked the author of The End of Nightwork. 'Or is it simply a question of "Read as much as you can"'?
'No, he wasn't pushy in any way. But yes, it was a very bookish sort of household. There was lots and lots of reading going on. And he worked from home as well. I suppose it's just implicit if you're in the house with somebody who's always reading and always writing then it just rubs off on you. Since I was a kid, I've always written stories and things.'
Aidan was one of two authors at BeaconLit this year who were on the Observer's annual list of the ten best debut authors for 2023. The other was Jacqueline Crooks, with Fire Rush. (Jacqueline was also at the Hay Festival this year. A third BeaconLit 2023 writer, Laura Shepherd-Robinson, had her book Square of Sevens published in June, and it is already on the Sunday Times bestsellers list.)
The End of Nightwork has gathered some glowing plaudits. '…a novel rich in provocative and timely ideas, yet seductively readable,' wrote Jude Cook in the Guardian.  'And despite the novel's complex philosophical and theological underpinning, its characters are always vividly alive. There's a rare originality here, and a willingness to take risks, that promises great things.'
Aidan, who has a PhD in theology from Cambridge University, wrote some short stories in his early 20s. 'I had some interest from an agent, and I wrote a novel, which didn't really work. I stopped for a couple of years. And then, in my late 20s, I started writing again.' Combining this, mind you, with his day job. He works as a researcher at the Heythrop Institute, a theology and philosophy research institution in London, where he lives.
He reached the bookshops as fast as any debut novelist could dream. ' I only really sent Nightwork to one agent, and they picked it up, and then they sent it out. And three different publishers wanted it, so there was a three way negotiation. So that was pretty good. But it happened quite quickly. You know, it was published [January 2023], I guess, six months after they signed. So that's quite rapid turnaround in publishing.'
Jet propelled is more like it. But where did the idea for The End of Nightwork come from? The Observer described it as 'a debut novel about nothing less than apocalypse….. the story involves a global youth revolt, a 17th-century prophet of doom and a rare hormonal syndrome; inventions all slyly sewn into a snapshot of pre-Brexit London as seen by a new dad in a faltering marriage.' 
 His protagonist Pol, who has a condition (entirely invented by Aidan) that ages him in rapid bursts, is fascinated by a historical prophet figure 'a sort of an amalgam of a few different prophets that I studied as part of my PhD'. Pol's family life in London is played out against a background of impending environmental disaster. The environment is a field Aidan has been actively involved in – he was an organiser for the Green Party and stood as a Parliamentary candidate for the Greens. 
Aidan is already onto his second book, with a publisher lined up. The main character is somebody who believes that she can shape the world with her thoughts. 'She's a woman living in the 19th century, so that I thought that was an interesting sort of emotional tension, being disempowered and seeking a different form of power, you know, seeking a different kind of agency, I suppose.' 'How is it going,?' I ask. 'Sort of slow going. But getting there.'
Aidan has appeared at several literary festivals promoting the book before BeaconLit. Most notably in the Oxford Literary Festival this spring, where he was on a debut writers panel. He wrote an article for the Guardian in January on his ten top 10 prophets in literature, 'because I suppose prophecy is a big part of the novel. I suppose I'm writing about prophets.' 'From mystics and soothsayers to madmen and mountebanks, prophets people many of my very favourite books and stories,' he wrote.
How does he fit writing into a full-time job. 'Most of the day, I'm reading or writing for my academic research, but then I've tried to find time to do a few hours every day.'
'And it's very self directed, my work so I can sort of do a bit of writing fiction, and then turn my attention to more dusty things.'
What is he reading? Three recent books he picks out are 'The Moustache by Emmanuel Carrère, which I enjoyed. And Sterling Karat Gold by Isabel Waidner, which is really good. And Kathryn Scanlan's Kick the Latch. I enjoyed that too.'
He's interested in experimental fiction. 'I think I'm generally drawn to things which are a bit more ambitious, sort of surprising. Or just, you know, people who are trying something different, trying to be a bit more experimental maybe. And also funny.'
Funny? Is The End of Nightwork funny? The book isn't as depressing as it sounds, Aidan told the Observer. 'Yes, there is humour in it, although some reviewers missed it.' The novel comes out in paperback in January 2024.