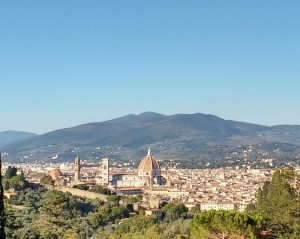 Florence provides one of the most rewarding of European city breaks, It has the universal and eternal appeal of great art and architecture. I hope that erecting barriers will not make it harder for us to see and appreciate such places.
---
This article is based on an article I wrote for the Mail on Sunday, following a visit I made in 2015. Travel by train details at the foot of the page.
Many cities are merely lovely. With such a wealth of Renaissance art and architecture, including Michelangelo's David, the Ponte Vecchio and the terracotta splendour of the cathedral, Florence rises above them all.
Front up
Adding a new gallery in Florence, already blessed with so much fabulous art, is akin to adding an extra dish to a 12 course banquet. But the Museum of the Opera del Duomo (it opened in 2015), on Via della Canonica by the cathedral, contains a wonder worth a place on any visitor's list. It is the actual-size reconstruction of the original facade of Florence Cathedral, 115 by 66 ft. They put back its original statues, in storage for centuries, following a 16th-century drawing. The facade was part of architect Arnolfo di Cambio's first, 1294, vision for the cathedral. But, never properly finished, it was removed in 1587.The museum also displays sculptures and original works of art made on the site by Florentine masters for the cathedral, many on show for the first time in 500 years.
There was an interesting observation on a long-lost feature of Florence in a temporary exhibition at the National Gallery in London. It looked at Francesco Botticini's Assumption of the Virgin, an altarpiece once installed in the church of San Pier Maggiore, almost entirely destroyed in the 1800s.  Centrepiece of the exhibition, 'Visions of Paradise', was Botticini's painting, which includes a panoramic landscape of Florence and an extraordinary dome of Heaven,  filled with saints and angels. There were also related paintings, drawings, prints, manuscripts, ceramics, and sculpture. A short film explained recent researches by academics from Cambridge and the gallery to find the site of the church and to make a virtual  recreation of it.
Super human
Michelangelo sculpted the literally superhuman 14 ft high statue of the Biblical hero David between 1501 and 1504, while only 26. It is a supreme creation of the human mind, and hand. The plan had been to set the white marble statue (it depicts the hero, unusually, before  the battle with Goliath) high up on the roofline of the cathedral, alongside other figures.Too massive, and too perfect, to be lifted there, the colossus stood in Piazza della Signoria for 300 years, before being moved into the Galleria dell'Accademia in 1873 (one of many copies replaced it). It was restored and cleaned to its Renaissance magnificence in 2004. Sadly, micro-fractures were found in its legs. More work, or another, earthquake-proof location may be necessary.
Market leader
The Mercato Centrale, on the first floor of the iron and glass market built in 1874, is the city's liveliest place to eat. Walk there through the massed stalls of the leather goods traders (Via dell'Arriento), and head to the first floor. Mercato Centrale opened in 2014, reviving this ancient quarter as one big, open and jolly dining space. There are twelve sections. Each serves a speciality Tuscan dish or sandwich, all made in-house, using only ingredients sourced from the tradition traditional market stalls on the ground floor. Order your food, Chianti, craft beer or whatever you are drinking and sit anywhere. There's free WiFi, useful for planning your visit, and good, free toilets. It's open 10 am to midnight, every day. https://www.mercatocentrale.it/en/
Art beat
We walked straight into the Uffizi in October, although do buy online before your trip (http://www.uffizi.org) in the busy spring and summer months. It's almost worth walking about at random, for that extra shiver of thrill when you unexpectedly come across Botticelli's Birth of Venus or Leonardo's Annunciation. The city's other, equally majestic, collection is in the vast Pitti Palace, on the south side of the Arno. There are many sublime paintings by Raphael, Titian, Lippi, Caravaggio and Rubens. You could spend a day in each gallery.
The Medici Tombs is the opposite. Just two chambers. You can see them in 30 minutes, ravishing sculptures that adorned the tombs of the greatest of all patrons of the arts. The work, once again, of unparalleled genius Michelangelo.
Phew view
We crossed the Arno over the Ponte Veccio, unique, ancient, combined river crossing and jewellery and gold shopping centre, for the quietest walk in the city. Heading up the Via di S Leonardo (plotting our course on Google Maps), we saw two cars and no other pedestrians (it was October). After a coffee at the top of the hill, we circled back, down Viale Galileo, to a viewpoint all to ourselves for that famous aspect of Florence (see my photo, above). We curled around the Abbazia di San Miniato and the Chiesa di San Salvatore. Also deserted. Only then did we begin to meet actual people, puffing up the hill to the Piazzale Michelangelo, with its bronze replica of David, where everybody takes the familiar shot of the cathedral in a sea of terracotta roofs.
Stay away
Florence is often crowded, although city centre pedestrianisation makes walking the central squares much easier. Try to miss the hot summer months – October to March are best. We stayed outside in cheaper accommodation in one of the many Tuscan hill towns, Montaione, an hour's drive away. Google Maps (covered in our phone roaming deal) guided us in. We parked (free) at Scandicci, near the end of the tram line, buying a 24 hour ticket. Alight at the main railway station, and you are a short step to the historic centre through the wide Piazza di Santa Maria Novella, past the ornate basilica of the same name. For coffee, order at a cafe's counter for the lowest prices. You pay when you leave.
More information: www.firenzeturismo.it/en/
Go by train.
(I'm indebted to the Man in Seat 61 for this information. https://www.seat61.com)
London St Pancras – Italy, leaving 09:22 daily
London to Paris by Eurostar, www.eurostar.com;
Cross Paris by to Gare de Lyon. Then Paris to Turin or Milan by TGV, daily at 14:42 arriving Turin Porta Susa 20:18 & Milan Porta Garibaldi 21:50. Stay overnight in Turin or Milan.
Depart Turin Porta Nuova at 07:00 or Turin Porta Susa at 07:10;  arrive Florence SMN at 10:04.  Or book a later train and have a leisurely breakfast and a look round Turin.