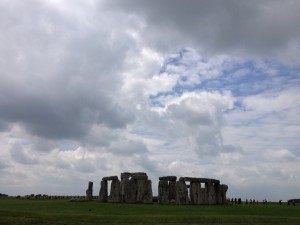 A committee in Wales last week (Nov 27th) published detailed proposals for addressing traffic congestion as an alternative to building a £1.6bn 14 mile long motorway bypass.
It was a highly usual initiative. Normally big road schemes are either given the go-ahead or scrapped, either forever or to be revived at some later date. Other solutions are not considered.
But here was a comprehensive list of evidence-based recommendations on how to alleviate congestion in a sustainable way, which included building more railway stations and establishing bus and cycle route networks, worked up in a year-long study.
How might this be relevant to the proposed Stonehenge tunnel, given the go-ahead by the Secretary of State for Transport last month (November 2020)?
Precedent?
Firstly, this is an important precedent showing that there are practical, low cost alternatives to major road schemes worth considering. Secondly, because it illustrates the wide gulf between England and Wales when it comes to planning for the future.
There are similarities between the £1.7 billion Stonehenge tunnel proposal and the similarly-priced scheme to bypass the congested M4 at Newport with a six lane relief motorway. 
The Stonehenge tunnel is principally designed to unlock traffic queues and cut journey times to and from the West Country. It has a second purpose, which is to take traffic out of eyeshot of the stones on the 5000 year old World Heritage Site.
The M4 relief road was promoted as the solution to chronic traffic congestion around the two lanes each-way Brynglas Tunnels, on the principle road into Wales. In pure traffic flow terms, its justification is stronger than the Stonehenge tunnel. Yet despite winning the backing of the independent inspector, the scheme was rejected last year (2019) by the Welsh Government's First Minister Mark Drakeford.  And, in part, for a reason to does not apply in England.
Future Generations
In 2015 the Welsh Government passed the Wellbeing of Future Generations Act. Unique to Wales, it requires public bodies in Wales to consider the long-term impact of their decisions. Sophie Howe, Wales's first Future Generations Commissioner, was a prominent opponent of the M4 relief road project. 
Ms Howe had urged ministers to think of 'shiny new' 21st century public transport projects instead of a new road. Her conclusions are thought to have been an important consideration in the First Minister's decision.
There is no equivalent to her office in England. (A private members bill to enact similar legislation in England was introduced in the House of Lords by Big Issue founder Lord Bird in 2019.) The Westminster government has no obligation to consider the consequences of the Stonehenge tunnel and associated roadworks for future generations, even though this would be seem to be singularly good example of a scheme devised today possibly having a negative impact on the appreciation and enjoyment of the stones for hundreds of years to come. (In the current scheme the two portals for the tunnel would sit inside the World Heritage Site boundary, causing "substantial harm" to its significance, according to the government's independent examiners.)
CO2 emissions
Over in Wales, opponents of the M4 relief road made two main points. One was the likely damage to a precious wildlife area, the Gwent Levels, through which the new road would run. The second was that the road would attract and create more traffic, encouraging people to make journeys they might not otherwise have made, and generate more CO2 emissions.
Ms Howe said [rejection] was a brave decision and the "right one for people and planet. [I] hope this marks a shift in policy for Wales and the Welsh Government now quickly bring forward investment in public transport".
 The South East Wales Transport Commission was set up to look at alternative solutions to the problem of congestion on the M4 in Newport. The main recommendations in its report, published last week, are:
£800m should be invested in public transport to help ease traffic jams on the M4.
Triple the number of train stations between Cardiff and the River Severn, from three to nine, as well as establishing bus and cycle route networks in Newport.
A "workplace parking levy", and ensuring public transport was "affordable for all", to encourage people out of their cars.
Better integration and coordination of rail and bus networks and integrated tickets across all services.
Final say
The Stonehenge and Newport schemes are not directly comparable. For one thing, the Welsh Government has the final say on infrastructure schemes such as this – although this may change with the passage of the Internal Market Bill, currently before Parliament. In England there is no such delegation of powers, with decisions taken at Westminster.
But while the alleviation measures proposed in Wales, for a heavily populated transport corridor between Newport and Cardiff, might not be appropriate in relatively lightly-populated West Wiltshire, Stonehenge, too, might benefit from an examination of alternatives to sinking a tunnel, with associated dual carriageway, within a World Heritage Site.
It is quite possible that two of the immediate issues at Stonehenge, noise and pollution, could be solved by existing and developing technology in the space of 30 or so years, with the mass introduction of electric vehicles; and automatic driving systems that should allow cars and commercial vehicles to make better use of road space, could enable them to be efficiently shuttled past the stones in convoys. 100 years from now, still a short span in the life of Stonehenge, transport technologies unimaginable today might have developed to make the very notion of today's major trunkroad outdated.
But the fundamental gulf in governance remains. The decision by Grant Shapps, Secretary of State for Transport, is a blatant example of short termism, building a road to provide immediate relief; while the decision in Wales was made with regard to the long-term welfare and interests of children yet unborn.
My 2019 article on the M4.