By grim coincidence, I was editing this piece yesterday (September 6, 2017). I'm still setting it out in full here because this wonderful island deserves all the support it can get. Its people were extremely hospitable to me on my visit last November (2016) and, although one little article isn't much, perhaps it will help them in their recovery in some small way in attracting the tourists they will surely need to help them recover from this devastation.
---
A British Overseas Territory yet pure Caribbean, with palm trees and a bejewelled sea lapping on miles of powdery, creamy-white sand.
Why should the Americans have all the fun? They come to this tropical retreat in big numbers in the winter to escape the grim US winter, attracted by the many smart beach-front hotels and villas, and high-end dining. But while the Caribbean is a huge draw for wintering Brits too, Anguilla has been an curious oversight for us.
Many people stay on neighbouring, and much bigger Antigua. Yet Anguilla is but a short flight away, and such an easy, and familiar, place to be, so small you could saunter its entire length in a day.  A British Overseas Territory yet pure Caribbean, with palm trees and a bejewelled sea lapping on miles of powdery, creamy-white sand, as frigate birds lumber overhead and diving pelicans pierce the waves. As for afternoon tea, they prefer rum punch here as the sun goes down.
Every glorious inch of beach is open to the public. On my last evening I strolled the magnificent Meads Bay, my feet sinking into the hourglass sand, for a close encounter with original islanders.
Two little sandpipers were working the very edge of the tide for their evening meal. Every time a wave broke, they speed-walked away from the advancing water on their little legs, like comical cartoon characters. Just as their forebears have done for millennia. I'd like to think there will always be room for them on this easy-going island.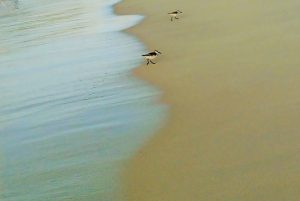 My optional activities included snorkelling over the island's coral cordon, and stand-up paddle boarding. But I took the lazier choice – music, and the answer to the question: what do the island's cricketers do next?
Imagine if England cricket captain Alistair Cook became a popstar on retirement, and you could just turn up at a restaurant and hear him perform, for nothing. That's what we did at DaVidas Bay Side Grill on Crocus Bay. where Anguilla and former West Indian test cricketer Omari Banks was playing. He is a major musical force on the island. They love him, but refuse to make a fuss.
In the same way, islanders treat visiting celebrities with a light touch. I found a photo of a visiting Hillary and Bill, quite at ease, on the wall of one Italian restaurant. Justin Bieber rewarded Anguilla for the easy time it gave him by dining out at island restaurants, rather than hiding  away in his villa. Leonardo DiCaprio was another star to call in recently.
If Anguilla were a bottle, it would be a miniature of fine rum. Not much to consume, but leaving a satisfied glow. We whisked around it in a day, taking in the original settlements and the oldest stone constructions, built by slaves in the 17th and 18th centuries. Our most tantalising stop was the closed and carefully fenced-off Fountain Cavern, decorated by original Amerindian settlers 2000 years ago. Helpful signs tell the story.
Jackie Cestero runs Nature Explorers Anguilla. She is one of a number of Mary Poppins characters who blew in, perhaps on the NE trade winds that keep the climate generally benign (yes, there are hurricanes, but not in the holiday season) and injected their energy and passion into island tourism.
On my tour she stopped at green and watery places to call up rare visitors and exotic residents from the island's avian rich list, like an orchestra conductor summoning up pure notes from her musicians. There a white-cheeked pintail and a Caribbean elaenia. Here a pearly-eyed thrasher, and a gray kingbird. Nothing escapes Jackie's expert eye.
On my tour with her I had a clear view of something I had never before seen before from dry land. There below us, in a secluded bay only reached by boat, was a turtle doing a gentle breaststroke.
In Anguila they fly the Union Flag on official buildings. This speck of an island, a little community of 15,000 people, is the size of a small British town. It has the rare status of being a British Overseas Territory, alongside Gibraltar, the Falkland Islands and Bermuda, and one of This speck of an island, one of six British Overseas Territories in the Caribbean, It is quiet enough, particularly on the side roads, for me to pose, several times a day, that deep philosophical question: "Why did the chicken cross the road?", just in front off my wheels.  Answer: because here they can, with impunity. Nobody's in a hurry.
The BBC was in Anguila in 2016, to profile this speck of land, 15 miles long by three miles wide, for An Island Parish.
The programme's brief is to focus on the quieter, insular outposts of the Church of England. It opened with a serene drone shot of one of Anguilla's 13 beaches. (A survey named one of them, Shoal Bay East, best in the Caribbean recently.)
The TV team took an easy meander around the island, speaking to the stalwarts who make Anguilla the friendly and hospitable place it is. The island's new stars included Bishop Errol Brooks, whose diocese of the North East Caribbean and Aruba takes in the island and its air-conditioned churches. And Mabel Gumbs, one of Anguilla's "senior ladies". She serves her famous corn soup from brimming tureens at her street stall in The Valley.
Then there are the incomers who just came on holiday, were smitten, didn't see the point of going home, and now help organise the year-round music festivals, carnival and colourful boat races.
Malliouhana hotel. When a place is so highly desired, the risks of brash over-development are great. Fortunately Anguilla has resisted the assault of the high rises, with only a few scattered exceptions built over three storeys, and concentrated on quality – admirably demonstrated in the stylish, newly-refurbished Malliouhana hotel. In the restaurants local, sustainably-caught fish dominates the menus. Driving up the quality are skilled overseas chefs, and a growing body of up and coming island cooks.