June, 2020.
The Department for Transport (DfT) released its plan to "decarbonize" UK transport on March 26 this year. Secretary of State for Transport Grant Shapps said that "public transport and active travel will be the natural first choice for our daily activities" and that "we will use our cars less."
Three days earlier, on 23 March, the UK government imposed the lockdown, which, in various eased forms, still applies for many of us.
At first the second part of Shapps' quote was being realised, albeit unintentionally, to an extent beyond the government's wildest dreams. For several weeks people just stopped driving.
Not the first part, though. Public transport has been effectively out of bounds to leisure travellers for three months. 
We don't really know how we're going to navigate our way out of lockdown, but two things are certain. It won't involve us taking a bus, still less a train, any time soon.  And it will certainly involve using a car, to which 81% of the population conveniently has access.
The timing of the decarbonisation announcement could hardly have been more unfortunate. While petrol and diesel is cheaper than it's been for years, rail finances are in a parlous state.
The government has effectively renationalised the railways, and each rail passenger journey on near-empty services has cost the taxpayer about £100 in subsidies, with billions of pounds of government money spent.
Meanwhile airlines like EasyJet, are already off the stand, full of restart confidence, reassuring us in natty promotional videos that we are safe in their hands, in sanitised terminals and on planes kept scrupulously disinfected. Never mind passengers are cramped closer together than on many off-peak trains. Already people are going to see two weeks in Turkey by air as safer than a holiday in Scotland by train.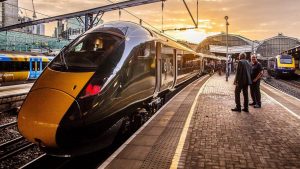 My contribution to #buildbackbetter as we come out of lockdown is to promote holidays and shorter breaks within the UK for the foreseeable future, and I would have advised people to take public transport wherever possible. It's essential we curb the use of cars running on fossil fuel.
We all know it, but it's worth repeating. We have to halve CO2 emissions by 2030, if we are to have any hope of reducing them to net zero by 2050. (The Future We Choose, Christiana Figueres and Tom Rivett-Carnac.) We have to sort out the railways, to make them safe and trusted, as a "natural first choice for our daily activities", and soon. And this must include a fare structure that makes them an attractive alternative to the car, and a budget flight to Europe.
It's going to take a major campaign by the government, through the train operators it is bailing out, to win back the advantage the airlines have already stolen. And that the private car, a perfectly clean and sanitised post-lockdown transport, has had all along.