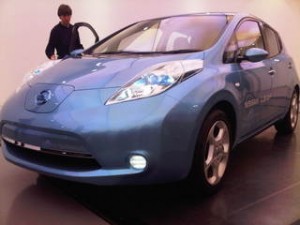 NISSAN LEAF
I was at the press conference where they announced the price of the NISSAN LEAF  (17th MAY 2010, Nissan Design Europe, Paddington, London). In the UK it will be £23,350,  after government incentives.
Nissan says an array of incentives can further cut running costs. They include zero vehicle licence duty, and zero company car tax for five years. Running costs are estimated to be around £511 annually less than a comparable traditional car.
The LEAF goes on sale in the UK in February 2011. It's the first "purpose designed and built" electric vehicle (EV) to arrive in the UK and Europe.
Senior people from the company outlined what it is and what it can do.
These are the headline features: it is powered by compact lithium-ion batteries for fast-charging, with a range of approximately 100 miles;
it has regenerative braking, and  low energy headlights.
The LEAF is a five-passenger family car,  with air conditioning, satellite navigation, a parking camera, a quick charge socket and innovative smart-phone connectivity — you can control charging functions via your iPhone. It has the equivalent performance of  a 1.6 litre petrol-engined.
The LEAF  was parked seductively alongside the presenters in the small display room, and in front of an impressive battery of (mainly) International motoring journalists.  The questioning was persistent, but didn't seem to leave the Nissan team on the back foot.
In the showroom most new cars look smart and appealing, and this one was not much different , except that it doesn't have a tail pipe, and it doesn't have an internal combustion engine drinking fossil fuel, and expelling pollutants. (And it's made from at least 30% recycled materials.)
However it is driven by electricity, which in the main is produced by fossil fuel.
So this car seems to face two challenges. First it has to work — meeting its 100 mile range target, without breaking down on the driver, and delivering him or her safely home to recharge, or to one of the few (so far) fast charging points, which are said to be able to recharge it to 80% battery capacity in around 25 minutes.   That, on the face of it, is a remarkable claim.  It would mean, for example, that you could potentially drive from London to Leeds, recharging just once on the way out a service station during a leisurely coffee break.
However there are as yet no charging points at service stations. In one of the few initiatives so far Milton Keynes Council has said it will help with the installation of 430 electric vehicle charging points in a mixture of public and private locations in the city. Drivers will receive incentives to switch to electric vehicles.
It's taken Nissan about four years to develop this car, and this has given it a head start in a market which is certain to expand. By 2013 Nissan will be producing it in Sunderland as the first all British electric car.
Is it the answer?  Clearly it is an answer, the first modest step in what has to be an enormous switch away from carbon-based energy sources.  It is perfectly capable of serving as a second car, for a day of average mileage commuting and general driving about. I tweeted that this or similar will rule the streets in 10 years. 5%, 10% penetration?  Who knows? but there were naysayers a few years ago he said the iPhone wouldn't catch on.