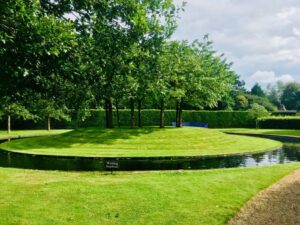 So where is this?
'Half-timbered house originating from 1606, transformed by the Rothschilds in the late 19th century, containing superb collections.'
And this?
'.. a French Renaissance château, inspired by those in the Loire valley, built by a Rothschild in the 19th century, and filled with royal treasures and many objects with an exceptional story to tell?'
Two fine houses in rural Buckinghamshire, just 14 miles apart. 
The second is a very well known – Waddesdon Manor – managed by the Rothschild Foundation, on behalf of the National Trust, who took over ownership in 1957.
The first, Ascott House, much less so, although it too is in the care of the National Trust. Its pleasures are more resatrained than its grand cousin. To the gaze of the daughter of Victorian Prime Minister Gladstone it was 'a palace-like cottage, the most luxurious and lovely thing I ever saw.'
It's also easier to take in than the usually thronged Waddesdon Manor. 
And the garden is sensational – see the photo above.
And, if you are trying to move away from taking the car everywhere, it's easily reached by public transport from all points of the compass. 
Google Maps now works as well for the pedestrian, and non-car user, as for the motorist. 
If you're coming from London and the South, or from the Midlands and North West, it's Leighton Buzzards Station, and a selection of buses towards Aylesbury. You could walk it, 1.6 miles, in 30 minutes. Or take the same bus routes from Aylesbury – 26 minutes. Or make a longer day of it and take my walk from Cheddington Station – in my article below. And read about the day they stopped the London express there for Prime Minister Gladstone.
A perfect setting off point for one of my Whistlestop Walks. What is this?  It's a simple formula I devised in 2019. I take a train to a station, walk eight or so miles (sometimes more, sometimes less) to another station, which need not even be on the same line, then take the train home. Simple, modest, rewarding. And as low carbon as possible.
Here are some examples.