The film was actually shot at locations in London, Bristol and Devon. The scene where German soldiers march through the streets of Guernsey was filmed in Bideford, in Devon. In Bristol, Princes Wharf, alongside a dockside museum, with cranes, steam railway and transit shed, was the location for a 1940s harbour – to represent Weymouth Docks.
In London the cast and crew filmed on Sicilian Avenue. The House off Detention in Sans Walk was also used as the setting for the jazz party.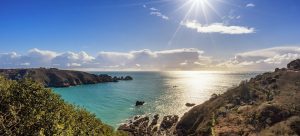 There's been a very decorous rivalry between Guernsey and Jersey, in the Channel Islands, with one, then the other, inching ahead in the "attracting tourists through books and film and TV" stakes.
Jersey had the long-running Bergerac series, and now Guernsey has stepped into a lead (its earlier literary appeal was founded on Victor Hugo, who wrote much of Les Miserables there) with a film whose tongue-tripping title will probably never be spoken in full by customers at cinema box offices. [Since I wrote the above, the movie The Beast, set on Jersey, has ramped up the competition.]
'The Guernsey Literary and Potato Peel Pie Society', was released on Friday 20 April. Mike Newell ('Four Weddings and a Funeral' and 'Harry Potter and the Goblet of Fire') is the director. The cast including Lily James, Michiel Huisman, Penelope Wilton, Sir Tom Courtenay, Jessica Findlay, Matthew Goode and Glen Powell.
The movie, not much of which was filmed on the island, it must be admitted, is based on the book of the same name by Mary Ann Shaffer with her niece, Annie Barrows. It's in the tradition of the quiet wartime drama (without the pyrotechnics) where the main character, journalist Juliet (Lily James), planning a quick visit to check out the quirkily named book club, stays longer and becomes immersed in a deeper story, around the island's occupation by the Germans.
The tourist board, VisitGuernsey, naturally wants to attract people who have seen the film to visit the island.  They're offering a series of visitor deals, including a Guernsey Literary and Potato Peel Pie Society package.
Guernsey isn't very big, so visitors can easily see the various locations to which the book refers, such as St Peter Port, Jerbourg Point on the south coast, Pleinmont Point, site of fortifications built by German soldiers during the Occupation, and the Little Chapel and St Martins. Travelling by bus (rather than hiring a car) is a very real option, even for those who don't normally "do" buses.
www.flyguernsey.com/the-guernsey-literary-and-potato-peel-pie-society.
GuernseyTravel is offering three-night packages. www.guernseytravel.com
https://movie.visitguernsey.com
https://www.visitguernsey.com