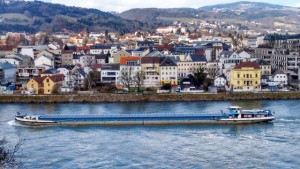 The Austrian city of Linz, midway between Vienna and Salzburg, refuses to be overawed by its two bigger neighbours. It was European Capital of Culture in 2009, and has a fine legacy, in a state of the art opera house. It has  also a sparkling museum of the future. The famous Danube runs through it. Even on a grey day, it was really, truly blue, as my unedited photograph shows.
(By train to Linz – see foot of page.)
Cake walk
Linz is compact and easy to navigate. We rode the tram from the main train station, through the heart of the old city on Landstrasse to the Nibelungen Bridge over the Danube. Walking back, we explored the great 13th century Hauptplatz, the main square, cordoned with elegant baroque buildings. The 60 feet high Holy Trinity column, striking in white marble, is its centrepiece. (The Linz card gives free entry to the main museums and unlimited use of public transport.)
Old Linz is close at hand down handy side streets – look for Renaissance palaces with inner courtyards, and the house where Mozart wrote the Linz Symphony in just four days. Then find a cafe for a slice of Linze Torte. The city claims this as the world oldest cake, jam on a crumbly pastry base, under a lattice crust.
True blue.
We looked down from the Castle, over this old city's multi-coloured rooftops, to the Danube, one of Europe's great watery highways. Monster freight barges storm through; long distance cruise boats tie up. It is clean and unmistakably blue, even on a grey day.
The Celts named the settlement Lentos – "on the bend of the river". It became the Roman Lentia, then Linz. The new riverside Lentos Art Museum, with works by Klimt and Schiele, is one example of the city's C21st cultural crescendo.
By day the river bank is a place to stroll among large metal sculptures in the Donaupark, and contemplate epic adventures on foot and bike. The 200 mile Danube long-distance cycle route and the 300 mile riverside walk, the Donausteig, both pass through the city. By night ever-changing multi-coloured lights caress the new riverside buildings.
Future world
Most museums look to the past. Ars Elecronica shatters that stereotype. It deals with the here and now, and the future. This absorbing place reflects the technological changes in the world about us, and where they might be taking us. Helpful bilingual staff are on hand to elucidate. One section looks at rapidly-developing 3-D printing. Another display area examines the way social media tracks us online, and how we might dodge its embrace. Yet another lets us electronically scroll back through maps of Linz down the years. Do take the 3-D trip of the universe, on an IMAX screen.
Opera star.
For years little Linz, a city of around 200,000 people, the size of Luton or Warrington, wanted its own opera house. Persistence paid, and in 2013 the splendid  Musiktheater am Volksgarten opened, funded largely with public money. It was designed by British architect Terry Pawson. His bold plan involved diverting a busy road to make the building more accessible.
This is a technologically advanced place. Rapid, automated scene-changing enables it to stage 200 different productions a year, from musicals up to Wagner's mighty Ring cycle. With budget flights from London, Linz is a good choice for a grand opera weekend. Tickets are much cheaper than in nearby Salzburg or Vienna. www.landestheater-linz.at/EN/
Centre spot
How did the Hotel am Domplatz ever get planning permission, in that most perfect of situations, the heart of a historic city is right next to the cathedral? Usually such settings are simply too precious to be touched.
For one thing, the imposing New Cathedral, although built in the neo-Gothic style, as the second biggest in Austria, only looks old – it actually dates from 1924. The Diocese of Linz decided to commission a new hotel as part of a plan to tidy up the area.
It was designed to "float" above the cathedral precinct, complementing, rather than competing with its august neighbour. Inside all is white and light and airy, with many a designer hotel flourish, including a cosy spa at the top. The spirit of charity pervades. In each bedroom there's a polished box, in which you may leave a gift for the next guest. www.hotelamdomplatz.at
Food for fun
We dined at Paul's, next to the Cathedral. Full and bustling, even on a Wednesday night, this restaurant easily met management's aspiration that "Eating and drinking should be fun". It's informal and casually chic. Taking a cue from his time in the kitchens of Brazil, chef Paul Gürtler sees that his meat and fish, vegetables and salads are "dancing tango on the plates". There is unfussy culinary invention, based on local ingredients, with unexpected Asian and South American twists. Bread – such as "sourdough with Tyrolean mountain clover" – spices, craft beer (they recreated India Pale Ale), coffee, tea, even soda are scrupulously sourced from local suppliers. www.pauls-linz.at
By train from London to Linz.

London to Brussels by Eurostar, leaving London St Pancras 06:47 Mondays-Fridays or 06:57 Saturdays. Arrive Brussels Midi 10:05.
Brussels to Frankfurt leaving Brussels Midi 10:25 – Frankfurt (Main) Hbf, 13:31.
Frankfurt to Vienna, leaving Framkfurt at 14:21, arriving Linz 19:24
Return. Linz Hbf 08:17, arriving Frankfurt (Main) Hbf at 13:36.  Frankfurt to Brussels, leaving Frankfurt (Main) Hbf at 14:29, arriving Brussels Midi at 17:35.  Brussels to London by Eurostar, leaving Brussels Midi at 18:56, arriving London St Pancras at 19:57 (21:33 on Saturdays).
Linz's bold opera vision pays off in new Musiktheater am Volksgarten