Dorset Tea, one of the smaller UK tea producers, has eliminated plastic and switched to bio-degradable teabags. It now uses plant-based, heat-sealable paper that can be safely popped into council food waste bins for recycling.
The company has also removed the gold lettering on the box in which teabags in the Sunshine Blend range are packaged so that it is 100% recyclable. This "sift proof" packaging means that boxes are no longer wrapped in plastic. They too can be recycled.
At the same time Dorset Tea has launched a conservation initiative with the Marine Conservation Society to raise awareness of the impact of litter along the Dorset coastline and elsewhere.  A spokesperson said the damage caused by single use plastics had been particularly apparent during Lockdown and afterwards as more people took a domestic holiday in the UK.
The Marine Conservation Society commented: "Single-use plastics are damage our marine environment and we applaud Dorset Tea's efforts to minimise their impact." The collaboration includes joining with schools in the county to create projects that focus on the local coastal environment and the importance of protecting marine life from litter.
Dorset Tea switched all its products to environmentally-friendly packaging in October 2020, with the slogan "Premium tea, naturally naked". It joins many of the major UK tea purveyors in the UK, who are phasing out some or all plastics in their products.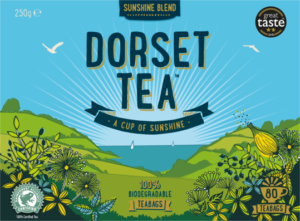 In common with many other manufacturers, Dorset Tea used the oil-based plastic, polypropylene, to seal the paper in its Sunshine Blend teabags.
It found a replacement sealant in PLA, a bioplastic. This is a new type of plastic generally made from plant starch, wood pulp or sugars, and not from petroleum. It is non-GMO and sustainably sourced.
(Dorset's fruit and herbal infusion range already used a method of folding the paper without the need of heat sealing, which meant polypropylene was not required in those tea bags.)
Dorset Tea's founder Keith Spicer started his enterprise in 1934, blending teas in his Bournemouth kitchen. He would make his deliveries on an old butcher's bike.  The company grew and all production was moved to North Shields, near Newcastle in 2017. However head office, housing the company's "heart and soul" and the base of the brand team, commercial team and master tea blenders is still in Wimborne, Dorset.
Every day the UK consumes an estimated 165 million teabags, many of which are composted in food waste. Tea bag patents date from 1903. They were first marketed in about 1908 in the USA. The heat-sealed paper tea bag, made from a blend of wood and vegetable fibres, was patented in 1930. The rectangular tea bag we know today was invented in 1944. Large-scale commercial production of polypropylene began in the 1950s, and sealing teabags was one of the myriad applications found for it.
In recent years consumers have pushed back against the use of such plastics in teabags, with gardeners finding a plastic residue in compost heaps even after the bags had been composted. Some bags were said to contain up to 25% non-biodegradable polypropylene.
Since 2017 most big companies have pledged to eliminate plastic from some or all of their teabags ranges. However even now there is confusion. I found a BBC news item in its online "Reel" series, dated October 12th 2020, in which a presenter interviewed University of East Anglia researchers as they conducted an experiment which appeared to show there was still plastic in some teabags. 
Researchers were shown testing six of Britain's biggest tea brands. Teabags were placed for five days in a copper ammonia solution, which dissolves any material apart from plastic. While some bags degraded and broke down easily, others did not, showing significant amounts of non-biodegradable plastic.
However the item seems to have been filmed months ago – people were not wearing masks, and there was no social distancing.  According to the item, major companies were said to be switching to fully-biodegradable teabags by the end of 2020. 
There is no such confusion about one small UK company, however. Across Dorset's range of products, plastic is out.